Tuesday's are for Try ons! Yesterday I featured a Target try on, on my Instagram story. I want to show you guys the amazing summer finds I am loving from Target. Target has many lines available but my favorite is Universal Thread. Below I have featured some of my favorite items they have online and in store right now!
First up are these amazing linen shorts! I have featured the linen shorts in three colors all paired with the white v-neck from target! They have the shorts and v-neck in many colors. The elastic linen shorts are so comfortable! I would down size in the shorts and stay true to size in the v neck. I am wearing a small in the top and an XS in the shorts!

Next up is the same linen shorts but I have styled them three different ways to show you some more options. My favorite color option is the denim color with the white stripes. I have paired it with my amazon earrings and Steve Madden Kimmy espadrilles. I wanted to show you three different types of tops you could pair with the shorts. The first image I have a Pink Floyd band tee, for a casual look. The second image I have a red sheer tank to dress up the shorts, and the last look I am featuring the white v neck from Target again.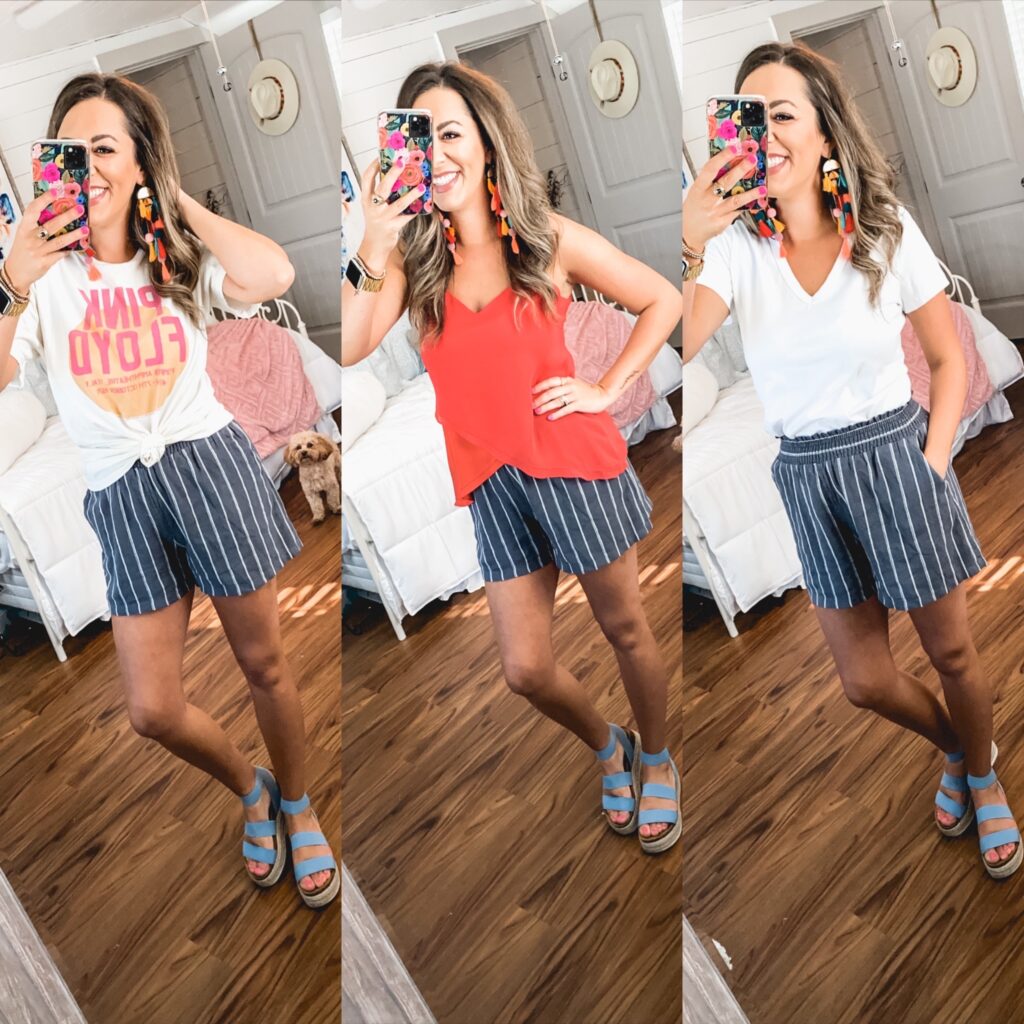 For those of you who are back at work here is a great option, the chiffon coral dress! I am wearing a small. This also comes in a ton of color options and sizes. This dress could be dressed up with heels or dressed down with a sandal. You could wear this dress for many different occasions including a wedding, baby shower, wear it to work or a special event. It could be turned into a maternity dress too. It is available in my favorite print cheetah! I have paired it with a snake skin bootie and some of my accessories including my Budha Girl bangles.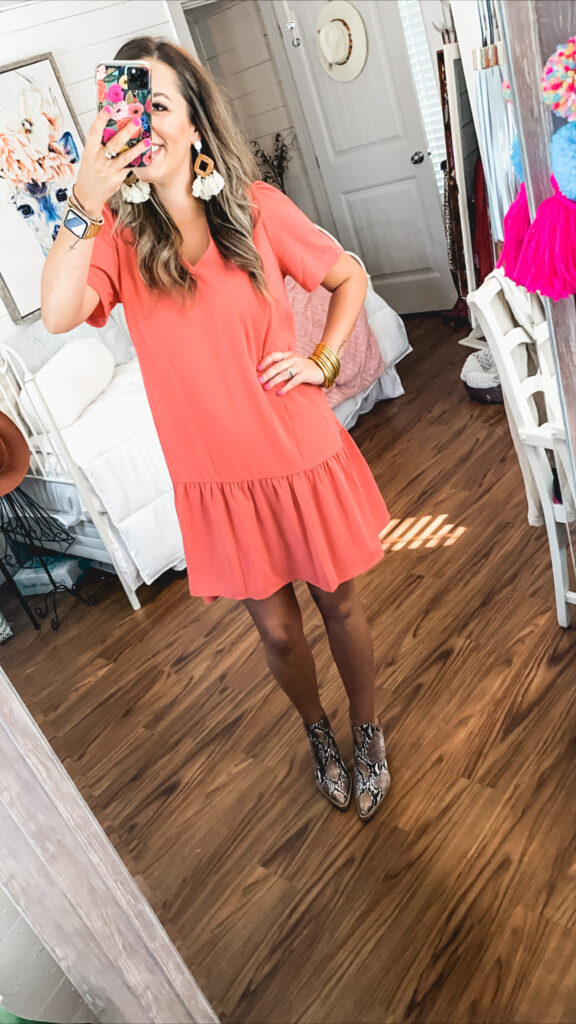 This summer Linen and overalls are in! So of course I had to show you these cute linen overalls from target! They come in a olive color too! I have paired this jumper with a basic v-neck tee also from Target. You could do so much with this set. I have also paired some sandals and my favorite jewelry with it to dress it up a tad! These linen overalls could be worn as a bathing suit cover up, to work with a heeled espadrille or on vacation to the beach! I would size down in them.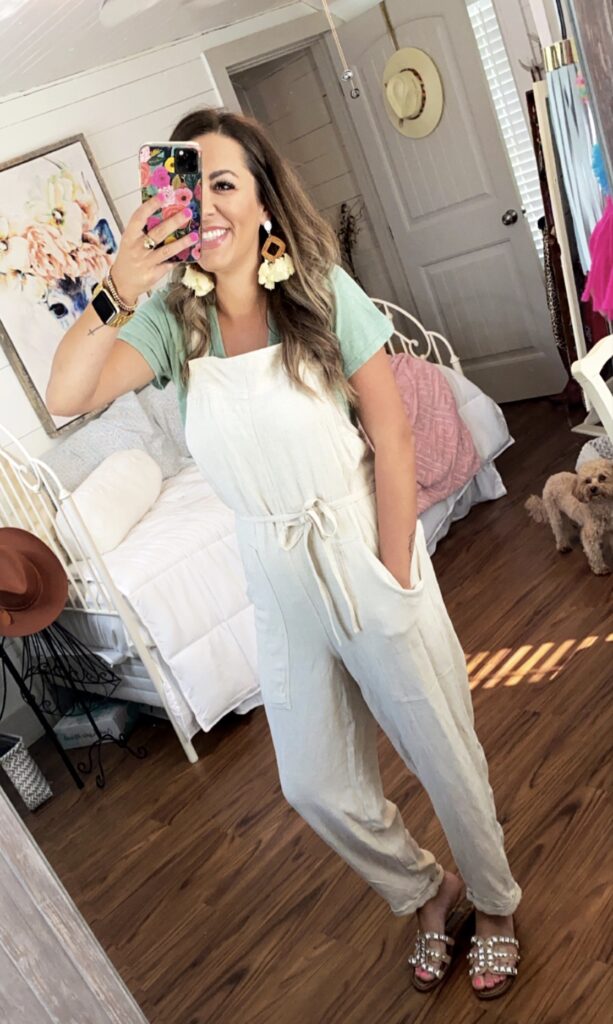 Next up is my favorite piece! This blue tie-dye tee shirt dress. The hottest print for the season is tie-dye. I have so much of it in my closet, but what's one more piece? This dress can be styled so many ways! Below I have shown three different ways to wear it! dressing it up and down. I also want to wear it tied up with my new blue miller sandals. This tee shirt dress is available in other colors too. I am wearing a small!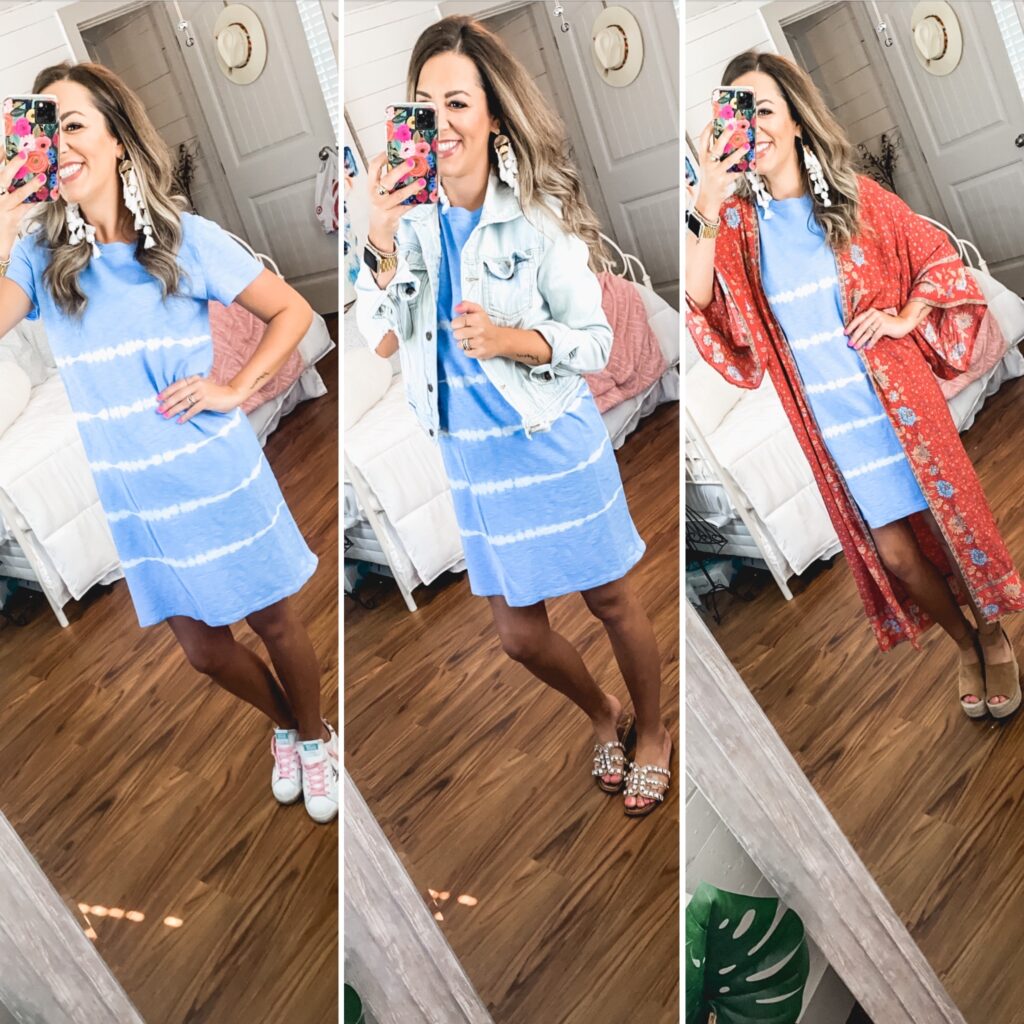 The last outfit of my Target try on is this striped crop tee that is part of their Universal Thread line. I am wearing a small. This top also comes in multiple color options. I love the loose fit and the length of the top. I have paired it with the midi denim shorts. I am wearing a 2 in the shorts. All of their denim shorts are $15 right now. I also have these shorts in mustard and camouflage. I love the fit! They are a good length and have a higher waist.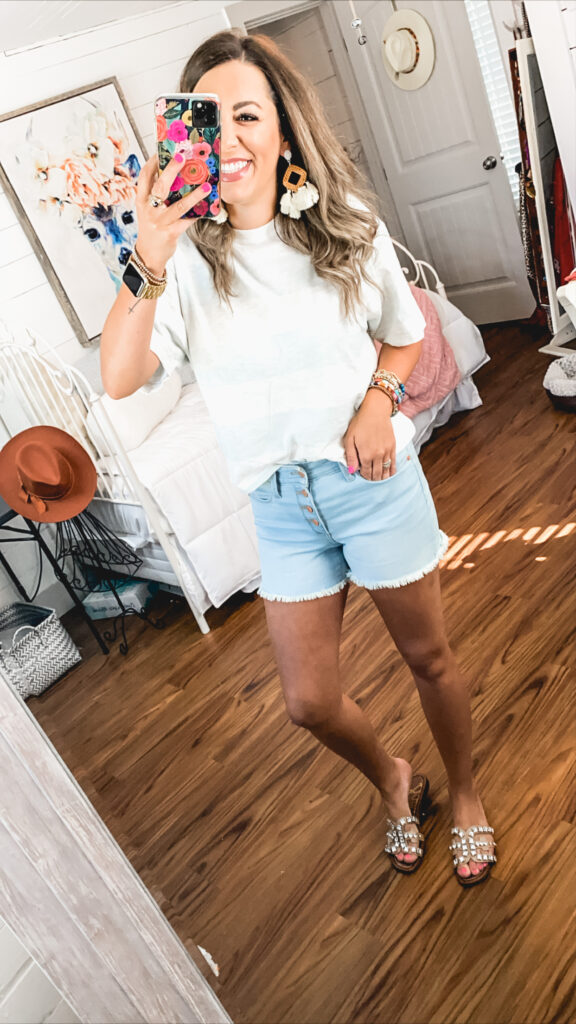 Target has so many cute things right now! Shop the post and have the cutest summer wardrobe. Tune in next Tuesday for another try on!
xoxo-
The Traveling Trendsetter